Medical Excellence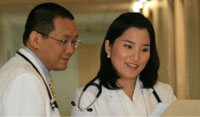 ALSHIFA hospital has become synonymous with medical excellence because of its highly trained doctors who expertly utilize cutting-edge medical equipment and technology to deliver effective, safe and compassionate care.
The doctors of Alshifa Hospital are leaders in the medical field. They include the most respected names in clinical practice in both the local and international arena.
Before becoming part of the Alshifa Hospital medical staff, our doctors go through a comprehensive credentialing process. Many of our doctors completed their training in and received board certifications from topnotch hospitals in the US, Australia, Japan, Singapore, and Europe.
Except in rare, extraordinary circumstances, each nurse at Alshifa Hospital supervises a maximum of only six patients at a time—a policy that conforms to international standards and ensures that our nurses give patients and their family "quantity and quality" time and attention. Trained in all aspects of patient care, our nurses at Alshifa Hospital provide patient-centered and personalized nursing care.
Entrust your health to Alshifa Hospital where excellence in health care is a way of life.